> TEASER TRAILER
FOR I'M SO EXCITED!
TRAFFIC JAMS, TRIBUTES AND TEASER
I recently arrived back from a London as jammed by traffic as Madrid and where I received the tribute that the American Motion Picture Arts and Sciences was kind enough to offer me, in their London headquarters. The ceremony was touching and flowed with a naturalness unusual in such events. There were no moments of sham or rhetoric, not the usual epic. Everything was so fluid and it was so well narrated that many times I forgot they were talking about me and my work.
Photocall at the Curzon Soho Cinema in London
The master of ceremonies was Sir Christopher Frayling, former director of the Royal College of Art who is currently chairman of the Arts Council of England and is the longest serving trustee of the Victoria & Albert Museum which is now showing the exhibition HOLLYWOOD COSTUME, a masterpiece of its kind and absolutely recommendable. As well as all that, Sir Christopher is very knowledgeable about my films and from the beginning he linked with charm and depth the screening of long clips and the appearance of the artists who came out to talk about me. The ceremony which lasted two hours went by in a flash.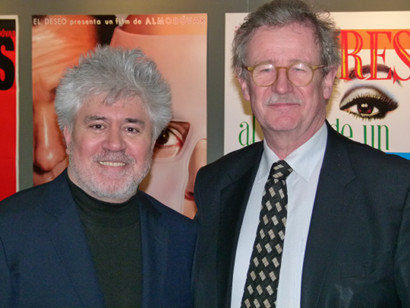 Pedro and Sir Christopher Frayling
Apart from Christopher, who is now a friend, I want to thank the contributions from Peter Morgan (screenwriter of "The Queen"), Sally Potter ("Orlando"), Stephen Frears, Quentin Tarantino, and some members of my artistic family, Jean-Paul Gaultier, Alberto Iglesias, Rossy de Palma, Leonor Watling, Javier Cámara and my brother Agustín. My brother Agustín is more timid on stage than when he is talking face to face, but in London he was very calm and read a moving story of our childhood, when, before we were ten years old, we'd go to the cinema, clutching each other by the hand, in Madrigalejo, Cáceres. He also talked about my first films as a Super-8 director in which he, like I, did everything. Agustín is my memory, the eyes that, since I was born, have never stopped looking at me.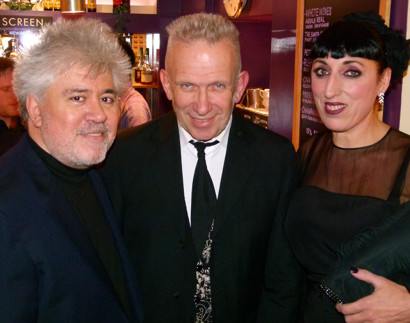 Pedro with Jean Paul Gaultier and Rossy de Palma
Javier Cámara was the last to speak and also presented the teaser of "I'm So Excited!". We hadn't planned it like that, but the ceremony spontaneously became the start of the launch campaign for our film.
Here you can see the teaser ad nauseam. We'll be posting a lot more pieces as they emerge from the oven. I've received lots of anxious calls after it was seen on RTVE, friends and acquaintances who will not accept that they can't see it before December 21st, the day when according to a Mayan prophecy the world will come to an end. These friends don't care if the prophecy comes true as long as they've seen "I'm So Excited!" first. I'm sorry, folks, but the film isn't finished. On Monday 17th, we start the pre-mixing, on the 19th Alberto Iglesias goes to London to record the music and in the first week of next year they'll do the mixing and I hope that the colour-grading, which is very far advanced at the moment, will be finished. The Spanish promotion would be more relaxed if we didn't have to do it in France and Italy too, as they will be opening there almost simultaneously with Spain. We are happy but very stressed.
I was forgetting, here are some of the photos from that night. Grace Jones erupted into the room like Attila's horse. She confessed to her Cuban origins, announced her new record and world tour and had her photo taken with everyone. She still has the same lips and same waist as in '78.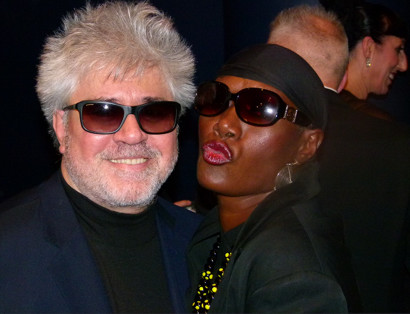 Pedro and Grace Jones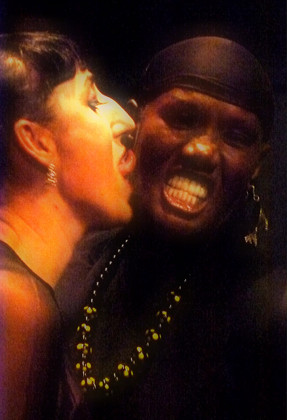 Grace Jones and Rossy
She and Rossy made a formidable pair. At the other extreme, I also met Kristin Scott-Thomas, an actress I always like seeing.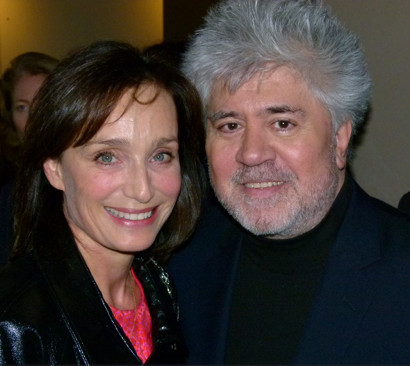 Kristin Scott-Thomas y Pedro
And, speaking of actresses, they put on lots of clips, as I said before, very long clips so that we could enjoy entire sequences. I don't usually see my films, I always run into them when I'm zapping or in ceremonies like the one in London. Once again, in case I had forgotten, I was open-mouthed at the work by Carmen Maura, Victoria Abril, Marisa Paredes, Penélope Cruz, Rossy de Palma and Chus Lampreave. I mention them because they were the ones who appeared in the clips, as well as Antonio Banderas, Javier Cámara and Darío Grandinetti and a little bit of Leonor.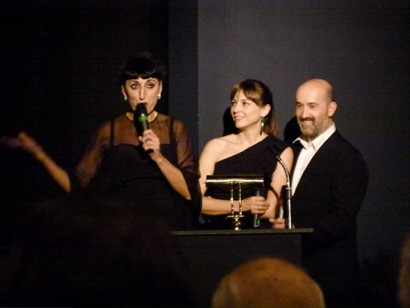 Leonor Watling, Rossy de Palma and Javier Cámara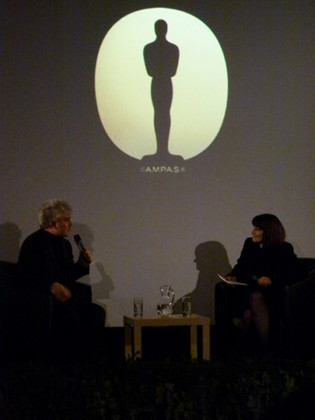 Pedro with María Delgado
The tribute by the Hollywood Academy, although I capitalized on it, was for all of them and all the technicians with whom I've worked in the last 32 years. At the following dinner, the greatness of the actresses mentioned above was the trending topic of the night, because for everyone it had been like a revelation. It wasn't always easy, but who thinks about that now!
Pedro Almodóvar
17th December 2012
« Entradas más antiguas