> TEASER POSTER FOR I'M SO EXCITED!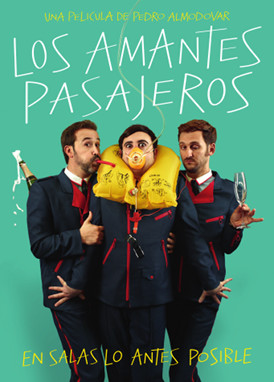 LIST OF FAVORITES

We are presenting here the teaser-poster for "I'm So Excited!", designed by Jean-Paul Goude. The idea is that everything that happens inside the plane is partying and transgression. It's true that the threat of a very serious technical failure is hanging over the passengers, but they transform fear into abandon, and hysteria into a sentimental and physical orgy. I'm not going to say any more, the entire cast and crew have taken a vow of silence, and so have I.
In this week of binges and lists, here are my favorites in the sections of music and cinema. As I have to feed the tinnitus with sounds to distract it, I spend the whole day listening to music.
My favorite discs from 2012:
1- (alt-J) – "An Awesome Wave"
2. Mark Lanegan Band – "Blues Funeral"
3. Bill Fay – "Life Is People"
4. Four Tet – "Pink"
5. Tindersticks – "The Something Rain"
6. The XX – "Coexist"
7. Nootropics – "Lower Dens"
8. The Funkees – "Dancing Time"
9. Criolo – "Nó na Orelha"
10. Belleruche – "Rollerchain"
11. The Ting Tings – "Sounds from Nowheresville"
12. LCD Soundsystem – "London Sessions"
13. Matthew Dear – "Beams"
14. The Invisible Session – "The Invisible Session"
15. Black Marble – "A Different Arrangement"
16. Balthazar – "Rats"
17. Flip Grater – "While I'm Awake I'm at War"
18. Tristesse Contemporaine – "Tristesse Contemporaine"
19. The Gift – "Primavera"
20. Django Django – "Django Django"
CINEMA. SPANISH TRILOGY
1. "Blancanieves" (Pablo Berger)
2. "El artista y la modelo" (Fernando Trueba)
3. "Una pistola en cada mano" (Cesc Gay)
EUROPEAN CINEMA
1. "Holy Motors" (Leos Carax)
2. "Amour" (Michael Haneke)
3. "En la casa" (François Ozon)
I still haven't seen the great American films which will arrive in the next two months.
Pedro Almodóvar
21 December 2012
Entradas más recientes »
« Entradas más antiguas